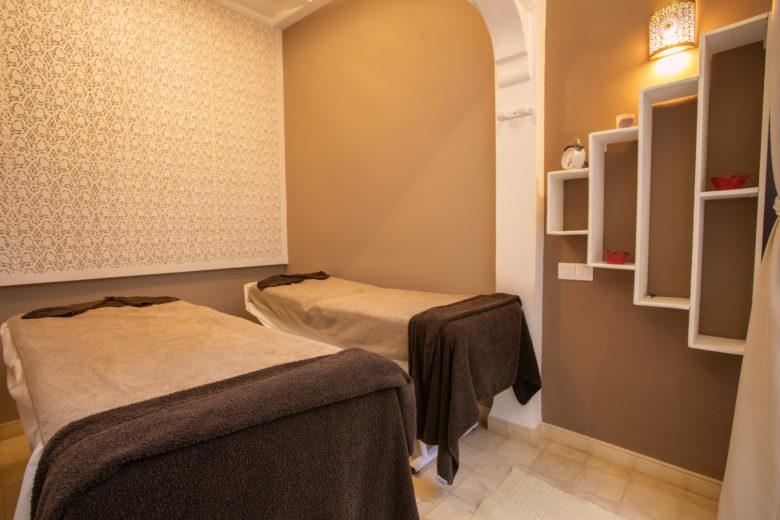 Berber Ritual
60min
380dh
30 min : Body scrub with Black soap with kessa glove & moroccan ghassoul body wrap perfumed & local shampoo in hammam + 30min : Massage (Relaxing or tonic)


Duo: 740dh
Traditional Ritual
90min
500dh
30 min : Body scrub with Black soap with kessa glove & moroccan ghassoul body wrap perfumed & local shampoo in hammam + 60 min : Massage (Relaxing or tonic)


Duo: 985dh
Keep up your healthy routine
Hammam
Hot bath in the Hammam, the perfect space to relax. We give you the products so that you can do the gommage personally
Traditional Gommage
30min
270dh
Black soap scrub with kessa glove & moroccan ghassoul body wrap perfumed & shampoo

Duo: 480dh
Sultan Gommage
60min
320dh
Soaping with black soap scented with rosemary essential oil & exfoliation with traditional kessa glove & detoxifying body mask with ghassoul & shampoo & delicate hydration with oil

Duo: 620dh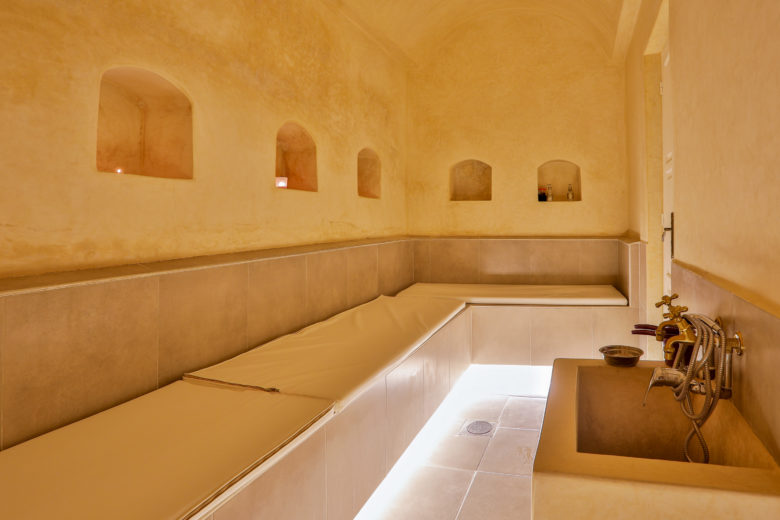 Tonic Massage
55min
380dh
The tonic massage stimulates the whole body, it is both relaxing and revitalizing. The practitioner uses a set of techniques (kneading, palpating-rolling, pressure, percussion) that relieve muscle pain, untie knots and eliminate toxins from the body. Thanks to a mixture of deep pressure and gentle tension, your muscles will be relaxed, blood circulation stimulated and the body relieved. This massage is suitable for people whose physical activity is minimal as well as for great athletes. Result: your body is more supple, lighter and invigorated. The fatigue accumulated throughout the day is eliminated, your body regenerated and your mind soothed. Your blood and lymphatic circulation are boosted.
Relaxing Massage
55min
380dh
Relaxing massage has beneficial effects on the body. It is often used to eliminate tension, improve blood circulation, prevent stress and improve the quality of sleep. It is also known for its virtues on the immune system because it helps prevent the weakness of the latter and improve its functioning. The relaxing massage brings a certain well-being to body and mind. It allows to evacuate the stress accumulated during the day and to reduce pain in people with chronic diseases. For 1 hour, the therapist works your muscle, your blood circulation and relieves your muscle knots. It works all parts of the body and focuses on the most rigid parts. Result: You are relieved of your pain, tension and muscle stiffness. The level of your stress hormones is lowered, your muscles and joints regain their flexibility and relax.
Californian Massage
55min
385dh
Californian massage dates back to the 1970s and, as its name suggests, originated in California. It is known to improve the general state of health of a person and relieve certain pains thanks to its powerful action. The practitioner uses long and fluid movements that allow deep physical and mental relaxation. Californian massage relieves certain types of chronic and muscular pain, relieves tension and muscle contraction, promotes the emergence of body memory, provides great relaxation and improves blood circulation. This type of massage is suitable for all ages, it is especially recommended for stressed people and patients with chronic pain. Result: At the end of the massage, you feel soothed, relaxed, regenerated and have a great feeling of well-being.
Back Massage
40min
280dh
The back is one of the parts of the body most exposed to muscle tension and pain. Whether due to poor posture or stress, we are increasingly prone to back pain. The back being the sentimental center of the body, relaxing it would amount to relieving the heart and the whole body. Massage is one of the traditional remedies for back pain. The practitioner uses fluid movements and exerts more or less deep pressures and lively and sustained kneading on the back. These movements combined with the virtues of Moroccan natural oils give a feeling of unity to the body and restore the skin's suppleness. Result: back tensions are relieved, back muscles relaxed, aches and contractions relieved, toxins eliminated and blood circulation oxygenated and stimulated. In the end, the accumulated fatigue is evacuated and your whole body is regenerated.
Foot Massage : (foot reflexology)
40min
250dh
Our daily occupations often make us forget the importance of our feet and their essential role in our motor skills (it is thanks to them that we can walk, run, jump, dance,…). We abuse them because we don't know that taking care of our feet is like taking care of our whole body. The easiest way to take care of our feet is foot massage or what is called plantar reflexology. Plantar reflexology is a foot massage of Chinese origin. It consists of the use of massage and acupressure techniques on all of the feet. For traditional Chinese medicine, the foot is made up of reflex zones and each of these zones is associated with an organ, a gland or a part of the body. Massaging the feet with the fingertips would therefore activate these reflex zones, which relieves pain, rebalances certain vital functions, combats stress, tension and muscle pain. Result: your body is regulated and reaches a state of balance. The blood circulation at the level of your feet is activated, which makes it possible to evacuate the accumulated tensions. You finally reach a level of deep relaxation; you are relaxed and the stress is evacuated
Deep cleaning facial treatment
60min
440dh
The skin of our face, exposed daily to external pollution, needs deep cleansing to prevent the proliferation of germs and promote cell reproduction. It's time to take care of your face and shine.

Our deep cleansing facial includes 5 essential steps:

- Facial cleansing
- Face massage
- Facial exfoliation
- Extraction of impurities
- Hand massage
- Result: A purified, smoother, softer and more luminous face and hands.
Oriental facial treatment
60min
385dh
Practiced for millennial in Eastern countries, Oriental facial care is carried out using 100% natural products (black soap, ghassoul, rose water, orange blossom, argan oil, etc.). It is suitable for all skin types, it tightens pores, purifies and softens the skin.

It includes 6 essential steps:

- Make-up removal
- Pore cleaning
- Hydration
- Traditional Moroccan scrub (coffee, chocolate, argan)
- Face massage
- Hand massage
- Result: Thanks to 100% natural products and gentle gestures on your face and hands, your skin is refined, purified, nourished and plumped.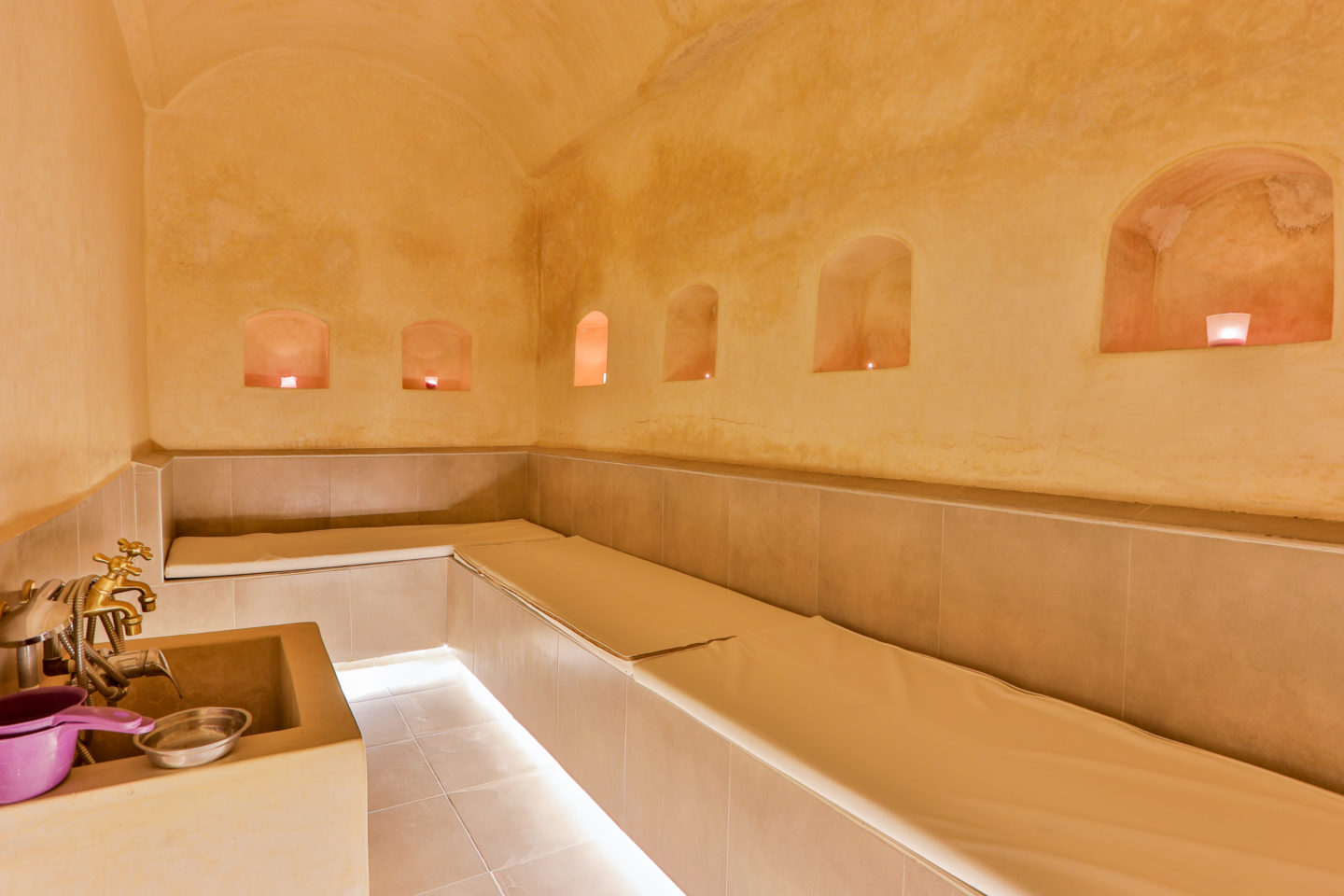 Keep up your healthy routine
Manicur & pedicure
Manicure with nail polish
165dh
Pedicure with nail polish
220dh
Oriental manicure with exfoliation and mask
275dh
Oriental pedicure with exfoliation and mask
275dh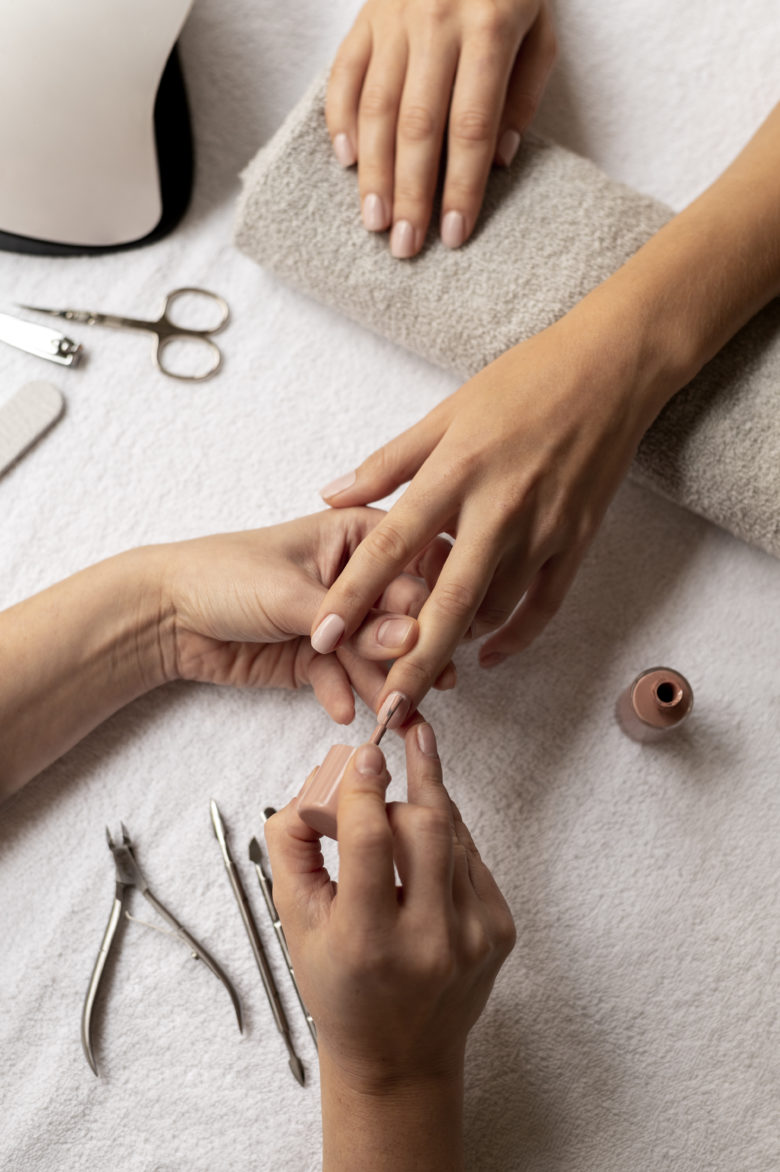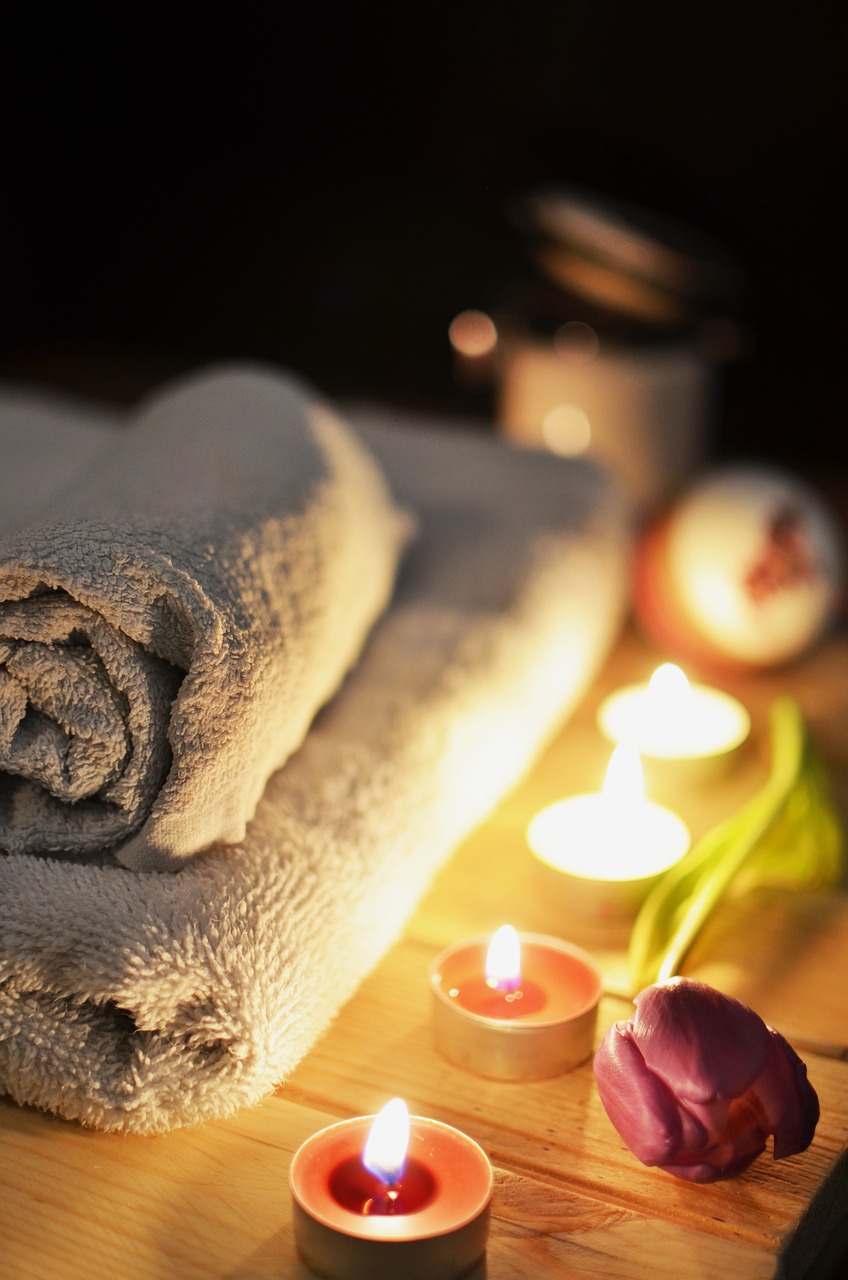 Keep up your healthy routine
Waxing
Reservations and Appointments